Great Western Searchlight Signals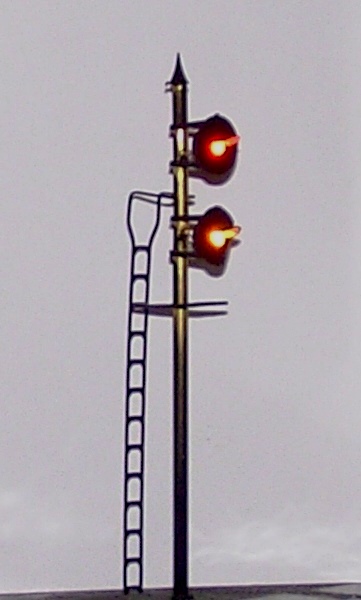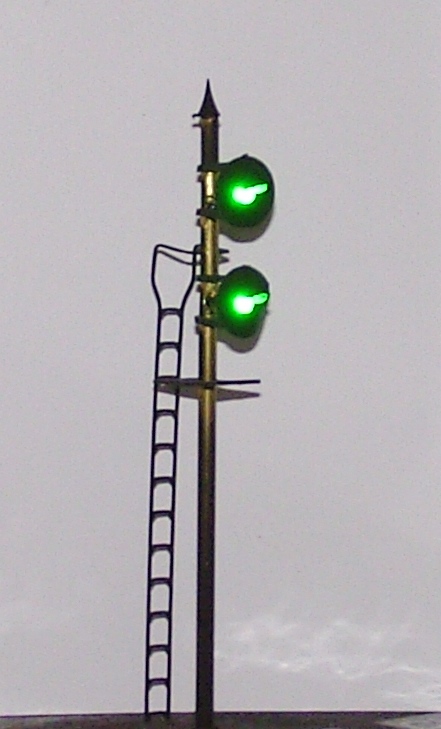 Stop Caution Clear
(Red over Yellow) (Green over Yellow) (Green over Green)
The Great Western Railway used colour light signals in several places on busy parts of the network. This followed the practice of twin arm semaphore signals with a home arm above a slotted distant, the searchlights displaying the same indication as would be shown by the semaphore spectacle plates. The signals are capable of displaying three aspects as shown above, Clear - proceed, the next two blocks are clear, Caution - proceed, the next block is clear but be prepared to stop at the next signal, and Stop.

While this signalling was installed by the Great Western in the 1930s it continued in use until after the demise of steam on the Western Region in the 1960s. Some of the Great Western signals were modified to the LNER style, notably on the main line out of Paddington near Southall.

The SC1 can be configured for two Great Western searchlight light signals by setting CV38=16. Each signal mast is controlled using two turnout addresses according to the following table:-

Great Western signal operation table for CV38=16
Base
state

Base+1
state


Aspect

Normal

Normal

Red

Yellow

Reverse

Normal

Green

Green

Normal

Reverse

Green

Yellow
k
Great Western searchlight signal wiring diagram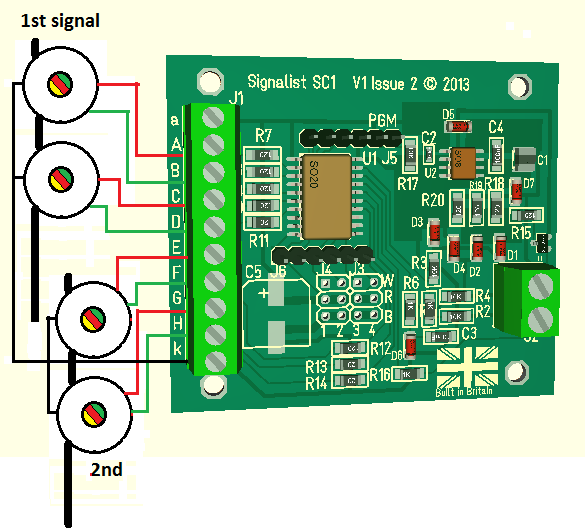 If using JMRI use the GWR-1931 signal system with the signal head controlled mast driver. Several CV38 settings are possible. Using CV38=16 for standard accessory protocol (occupies two turnout addresses per signal) or CV38=129 for extended accessory protocol if your command station supports it (uses two signal addresses per signal) is the most efficient configuration method.
For CV38=16 use any 3-aspect signal mast with the MERG 3-aspect signal head driver.
For CV38=8 use any signal head controlled mast with the Double Output signal head driver
For CV38=129 use any signal head controlled mast with the DCC Signal head driver
Visit the
JMRI

GWR-1931

signal system
to see the
available mast types
.
Signalist
GRS style searchlight heads
are available to create your own signal masts
Website design by Paul Harman © 2013